TheBikeStore.com
110 Alpine Street Mount Shasta, CA 96067 530-926-4567
Email: shop@thebikestore.com

The Bike Store staff will be at the Ski Park select days during the season,
please check our store hours to verify if the shop is open on the weekends.

The Ski Park is open on weekends from June 15th - September 15th, 2019

The Bike Store's business hours Strava Leaderboard Ski Park rates & trail conditions

The Mt Shasta Ski Park's 2019 Mountain Bike Racing Schedule

Night Ride Festival and ShastaKaze Classic DH & Mt. Bike Show - Sept. 13-14th, 2019

Relive days of yore on your Classic Mountain Bike on Saturday September 14th
Course Description: Kamikaze style racing down a loose 2 mile dirt road.
Featuring Classic MTB classes & Modern MTB classes Plus a Repack Coaster Brake Class
2 runs with best single run time to determine the winner in each class.
Course Profile ----- Video Preview


If racing isn't your thing, but you have a classic Mt. Bike to show off,
then dust it off and bring it up to the Ski Park for the devotees to ogle over.
Prizes will be awarded based on some as yet undetermined point system.

Don't forget about the Night Ride Festival on the eve of the race, Friday the 13th.
Just a day before the Full Harvest Moon, riding under the lights is going to be rad!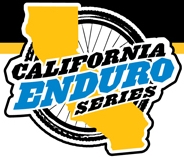 California Enduro Series Round 3 - July 13, 2019
Results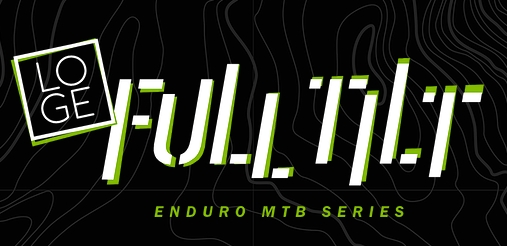 Full TilT Gravity Stage Race Round 1 - June 29th, 2019
Results




Opening day Duel Slalom - June 15th, 2019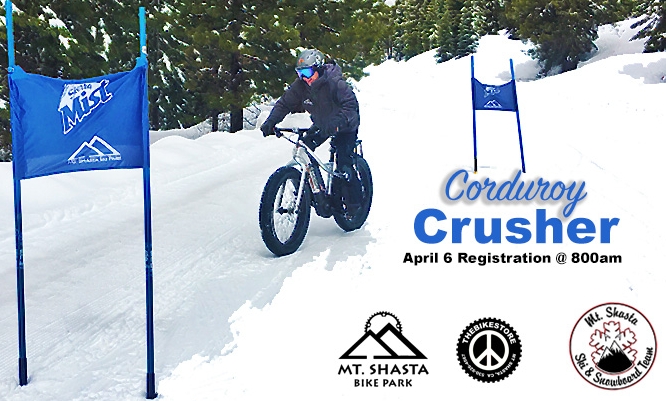 Corduroy Crusher Snow Mountain Bike Race April 13th, 2019
2019 Corduroy Crusher race highlight videos.




Mount Shasta Ski Park Mt Biking Videos Recorded by The Bike Store 08/20/2017

| | | | |
| --- | --- | --- | --- |
| Marmot Upper Beginner Trail | Marmot Lower Beginner Trail | Marmot Flow Trail | Marmot Feature Trail |
| | | |
| --- | --- | --- |
| Marmot Bridge(Creek) Trail | Douglas Backside(Right) Trail | Douglas Downhill Trail |



The Bike Store's GPS Routes of Mount Shasta Ski Park 2017 Bicycle Trails

The .gpx files below can be imported to your GPS device or viewed on Google Earth




Strava Leaderboard Times for the Mount Shasta Ski Park DH Trails

Please ride with care and respect. Trails are open to riders of all abilities.

Marmot Beginner

Marmot Flow

Marmot Feature

Marmot Bridge Trail

Marmot Perimeter Trail

Douglas Backside Trail

Douglas Downhill Race Course



Mount Shasta Ski Park Mt Bike & Disc Golf Summer Trail Map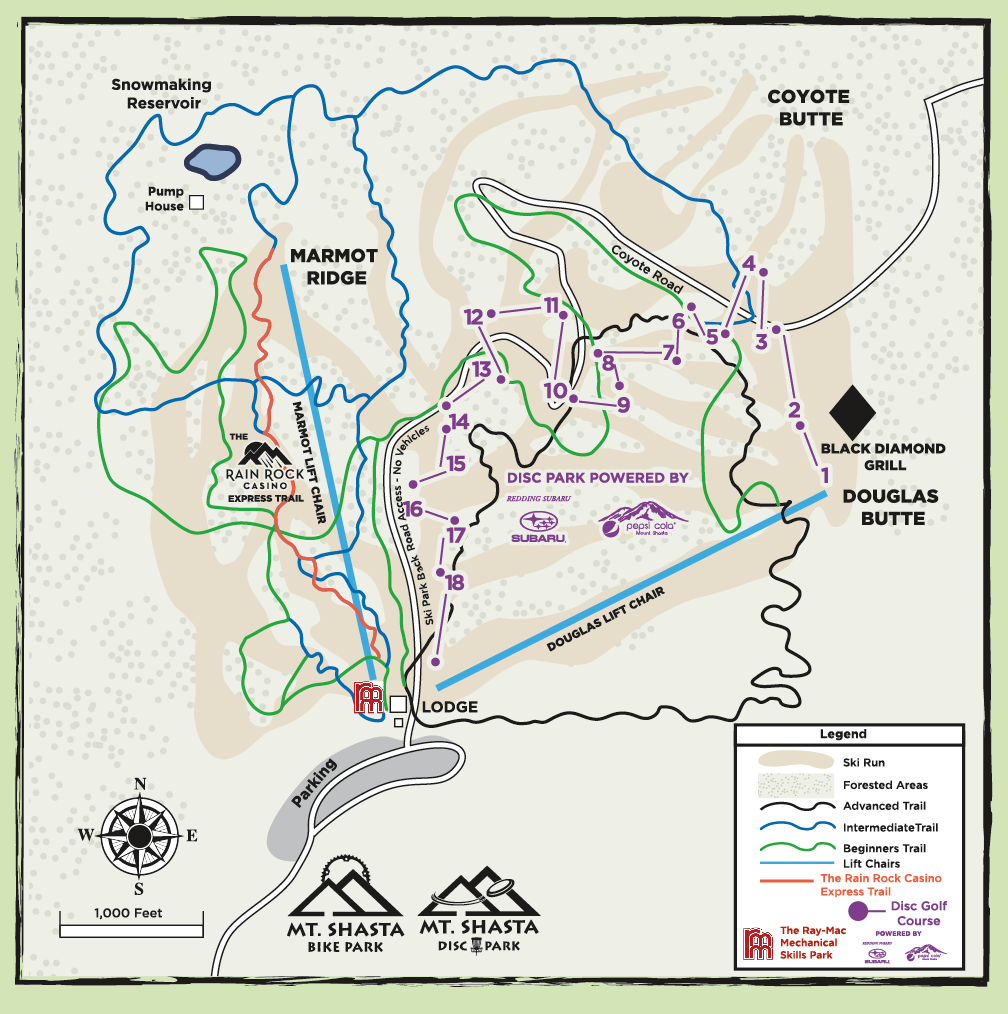 Mt Shasta Ski Park Rates and Mt Bike Trail Conditions Report


2019 Rates are $35 for an all day lift ticket and $199 for a Summer Season Pass.
The Mt Shasta Bike Park is open on Saturdays & Sundays from 10:00 - 4:00